The Alano Club is one resource in a large community network dedicated to providing support for those in recovery from the diseases of alcoholism and drug addiction. After attending programs offered by many of the following organizations, the Alano Club helps graduates maintain a lifetime of sobriety.
The Alano Club is centrally located at the corner of Garden Street and Cota Street.
You can also download a PDF version of this resource map.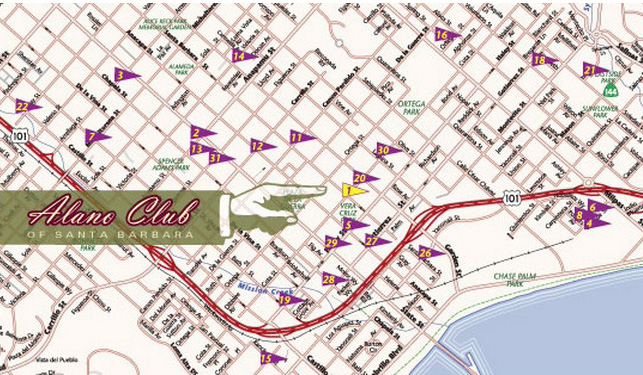 | | | | | |
| --- | --- | --- | --- | --- |
| | 1 |    Santa Barbara AA |   14 W Anapamu St. | 805-962-3332 |
| | 2 |    Alano Club |   235 E. Cota St. |   805-962-5013 |
| | 3 |    All Star Recovery Sober Living Home |   5018 Calle Real |   805-698-4889 |
| | 4 |    Bethel House |   24 West Arrellaga St. |   805-966-1316 |
| | 5 |    Casa Esperanza (now called PATH) |   816 Cacique St. |   805-963-1836 |
| | 6 |    Casa Serena |   1515 Bath St. |   805-966-1260 |
| | 7 |    Community Kitchen |   Cacique St. |   805-564-0093 |
| | 8 |    Community Recovery Network |   226 E. Canon Perdido St. |   805-899-2933 |
| | 9 |    Cottage Residential Center |   2838 State St. |   805-687-9041 |
| | 10 |    Council on Alcoholism and Drug Abuse |   232 E. Canon Perdido St. |   805-963-1433 |
| | 11 |    County Probation Department |   117 E. Carillo St. |   805-882-3700 |
| | 12 |    Giving Tree |   327 E. Victoria St. |   805-455-4568 |
| | 13 |    Lighthouse Foundation |   721 Spring St. |   805-962-8248 |
| | 14 |    Lighthouse Foundation |   713 Spring St. |   805-882-2294 |
| | 15 |    Lighthouse Foundation |   1115 E. Gutierrez St. |   805-882-2294 |
| | 16 |    Lighthouse Foundation |   231 W. Haley St. |   805-882-2294 |
| | 17 |    Mental Health Association (next to Alano Club) |   Garden & Cota |   805-569-1607 |
| | 18 |    Mission House Inc. |   1240 E. Yanonali St. |   805-451-7686 |
| | 19 |    Mission House Inc. |   1814 Castillo St. |   805-451-7686 |
| | 20 |    Mission House Inc. |   415 W. Quinto St. |   805-451-7686 |
| | 21 |    New House II |   227 W. Haley St. |   805-962-8248 |
| | 22 |    New House III |   2434 Bath St. |   805-563-6050 |
| | 23 |    CADA Project Recovery Detox Center |   816 Cacique St. |   805-564-6057 |
| | 24 |    CADA Project Recovery Outpatient Services |   113 E. Haley St. |   805-564-6057 |
| | 25 |    Rescue Mission |   235 E. Yanonali St. |   805-966-1316 |
| | 26 |    S.O.S. Women's Recovery Home |   115 E. Gutierrez St. |   805-569-1144 |
| | 27 |    Salvation Army Hospitality House |   423 Chapala St. |   805-962-6281 |
| | 28 |    Sobering Center |   15 E. Haley St. |   805-966-3017 |
| | 29 |    Transition House |   425 E. Cota St. |   805-966-9668 |
| | 30 |    Zona Seca |   26 W. Figueroa St. |   805-963-8961 |